After winning the presidential election. He secured
479
votes out of
702
. His opponents, Retired Chief Justice Saeed-uz-Zaman Siddiqui received
153
elctoral votes and Senator Mushahid Hussein received
43
. Asif's victory in three provinces is overwhelming, especially in Sindh where his opposing candidates couldn't get a single vote. Only in Punjab Assembly Saeed-uz-Zaman Siddiqi is able to get more votes than Asif.
The vote by the two houses of parliament and four provincial assemblies forms the 1,170-member, but 702-vote, electoral college. According to a Dawn update:
'Asif Ali Zardari secured 281 votes out of the 426 valid votes polled in the parliament,' chief election commissioner Qazi Mohammad Farooq said. He has secured 458 out of 702 electoral college votes, according to partial Election Commission results.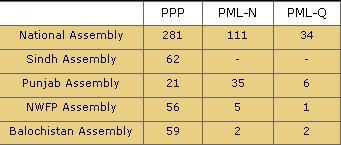 Asif Zardari is the 13th President of Pakistan. The ones who have been President before him include: Iskandar Mirza, Ayub Khan, Yahya Khan, Zulfiqar Ali Bhutto, Fazal Ilahi Chaudhry, Zia-ul-Haq, Ghulam Ishaq Khan, Waseem Sajjad, Farooq Laghari, Waseem Sajjad, Rafiq Tarar and Pervaiz Musharraf. Waseem Sajjad has twice been the President of Pakistan.